Explore Baden

The big city in the Aargau
Sights
The Town Tower

The town tower, built in the 15th century, can be seen from a distance. It bears the colors of the city of Baden.
It has been renovated several times and damages have been repaired.
The tower served from 1846 to 1985 as a district prison with some cells. Today, however, it has no permanent use. It is visited during the city tour "Witches, Murderers, Prostitutes and Arsonists" and is used from time to time for public events.
Ruin Stein
Enjoy the best view of Baden!
The medieval castle was built in the 11th century and destroyed by great battles of the Confederates in 1415.
The watchtower as well as the chapel survived the battle and are still in good condition today. The castle ruins are one of the typical features of the townscape.
Bailiff's castle
The foundation walls of an old fortified tower date back to the 13th century. Until 1798 it was the official seat and residence of the federal bailiff of Baden.
After that, it was used once as a schoolhouse, once as a hospital and once as a prison.
Since 1913 it has been used as a historical museum. If you walk towards the museum, you will cross the historical wooden bridge of Baden.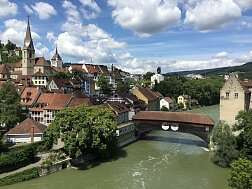 More info here
Villa Boveri und Villa Langmatt
The Villa Boveri is the most important garden complex in the city of Baden. It was built from 1897 by Walter Boveri I. For all ABB fans and nature enthusiasts a wonderful walk.
The Villa Langmatt is today a museum and one of the most important art collections of French impressionists is on display.
Water Tower Baldegg
Are you interested in a longer walk? Then we recommend you to go to Baldegg.
In the middle of the magnificent forest stands the water tower with a spiral staircase with 172 steps, where you can enjoy a 360° panoramic view over the Mittelland, the Alps, from Säntis to Jungfrau and the Black Forest.
Guided Tour
Would you like to travel back in time 2000 years to the past of Baden?
Do you want to learn more about the eternal thermal spring and why Baden is the spa town?
Do you like it mystical and want to learn something about the witches, prostitutes and arsonists of Baden?
In Baden you will find a wide range of guided tours. On Wednesday and Sunday there are public tours, which are free of charge. Take a look at next week's program here!
Pure Nature
Besides the city feeling, there are also very beautiful places, which are in the middle of nature. Whether at the water or in the forest; simply wonderful!
Museums & Galleries
For young and old; In the 10 museums in Baden there is something for everyone. With the City Ticket, which you can get from us, you can visit one of these 10 museums for free during your stay.